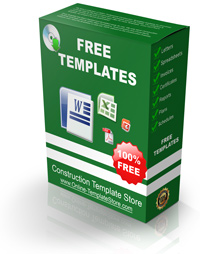 Our FREE Templates offer consists of 16 mixed use Word, Excel and PDF document templates / forms. These templates are an array of general to specific construction document forms. The templates are preconfigured ready for use. For fully functional customized, professional looking templates, please purchase any of our packages on offer.
| | |
| --- | --- |
| | Pre-configured ready for use |
| | Free instant download |
| | Saves time, increases productivity |
| | Edit templates to suit |
| | No additional software |
Click on the Files Included tab to preview the files and formats included in this free offer. The files can be instantly accessed by clicking on the FREE DOWNLOAD button. Simply DOWNLOAD, open the selected file, CUSTOMIZE to suit, save and PRINT!